Whether you're a regular at festivals or are tempted by Gigantic tickets to a major music event in the UK, you should always dress in style.
Here, we take a look at the four timeless festival  and gig looks.
1. The Boho Babe
A staple of , the boho babe is in her element shimmying in the indie tent to the sound of clanging guitars or chilling at a vegan cuisine stand, with a felafel in hand.  With her long, just-rolled-out-of-bed tresses and ultra-cool attitude, she is the epitome of festival style.
To unleash your inner flowerchild hit a thrift store or flea market as well as your favourite stores to create a truly bohemian ensemble. By combining a brand new floral maxi dress with a vintage fringe-trimmed suede jacket and a pair of gladiator sandals, you can achieve the supreme coolness of the boho babe. To complete the look, add a pair of John Lennon inspired sunglasses. If you're feeling crafty, you could even create your own flower-embellished crown using a simple headband and a few of your favourite blooms.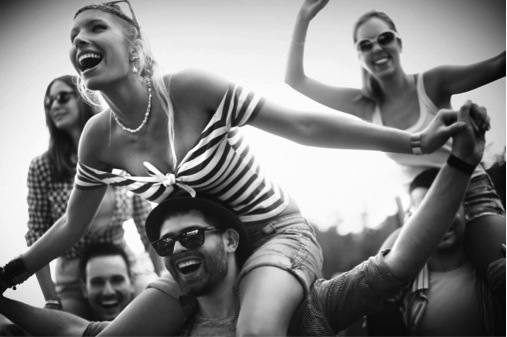 2. Practical Polly
Practical Polly is all about functional fashion. A girl guide at heart, she is always prepared. Raving the night away in the rain? She's got the perfect waterproof poncho. Need somewhere to store your valuables? She's got an ideal zip-close cross body bag, allowing her to keep her hands free to tweet  jealousy-inducing pictures from the depths of the mosh pit.
Being sensible doesn't mean you can't look good. Once reserved for the hunting elite, the welly boot has evolved into a fashion favourite among festival goers. These comfortable rubber shoes are available in an array of styles and colours and look fab  when paired up with your best-loved stretch-denim skinny jeans or hot pants.
The cami is another great choice for those looking to balance comfort and style. A basic in every girl's closet, this versatile top comes in endless styles, fabrics and colours. Whether you want to be neon bright for the dance tent or pretty in pastels in front of the folk stage, you can find a cami to suit you. And for late night explorations around the festival grounds or drizzly mornings queueing for the portaloos, don't forget to have a hooded sweatshirt on hand.
3. The Divine Diva
She's the girl in the jaw-droppingly gorgeous jumpsuit with stiletto acrylics and an impossibly sleek ponytail. Whether she's sipping champagne at the bar, hanging in the VIP lounge (she's so connected!) or making the morning coffee run, she always got the right shade of red lipstick and a chic pair of statement earrings.
Being knee-deep in mud won't stop this lady from looking glam. If you're as serious as she is about looking fabulous, you need to invest in pair of high-heeled wellies. They're guaranteed to make you stand out at the silent disco.
To keep yourself looking and feeling as divine as this diva, don't forget to pack some straightening irons,  a makeup with sun protection and your favourite perfume. If you really want to treat yourself, you can even take a trip to the on-site salon to stay looking fresh in the sun.
4. The Trendsetter
Gigs and festivals are a hotbed of creativity and experimentation, so why not express yourself by changing up your look? Oozing cool, the trendsetter isn't afraid to look different (and sometimes a little bit crazy!) That woman with the feather boa for a tube top at the comedy tent? That green-haired girl  in the ribbon-adorned wellies at the taco stand? And the one with the bamboo hat on the ferris wheel? They're all trendsetters.
Experimenting with your wardrobe doesn't have to be hard. If you want to get your imagination running, why not start by breathing new life into an old pair of jeans by cutting them to make one-of-a-kind hotpants? Add finishing touches by gluing on some sequins or sewing lace trim on to keep the edges from unravelling. You could also take a pair of scissors to a floor length skirt to transform it into a funky fringe skirt. But don't stop there – a true trendsetter's inventiveness knows no bounds!